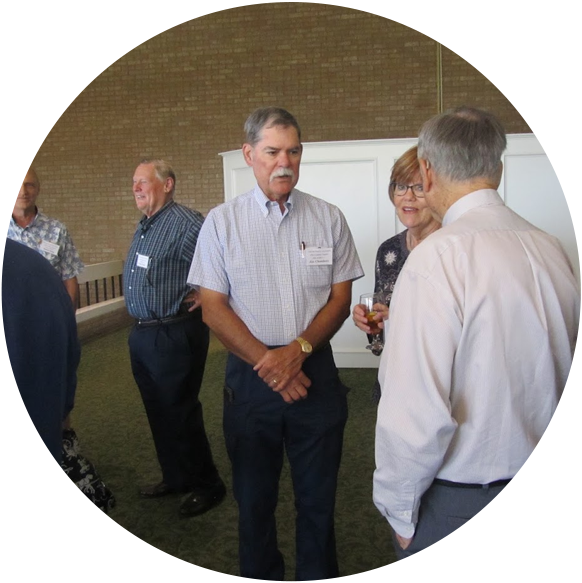 Chevron Retirees Association is a national organization of retirees, former employees, and their surviving spouses. If you, or your spouse, retired from, or ever worked for, any of the companies which subsequently became a part of Chevron Corporation, you are eligible for membership. These companies include: Amoseas, Chevron, Getty, Gulf, Jefferson Chemical, Molycorp, Plexco, Tenneco, Texaco, Unocal, and Warren Petroleum, as well as others.
The national organization is divided into eleven North American Areas which are partitioned into Chapters. Our's is the Hill Country Chapter of South Texas Area, including retirees from Schulenburg to Kerrville, and Temple to San Antonio. The Chapter is further subdivided into four geographic Areas, each having its own elected director.   Chevron Retirees Association serves to represent retirees' interests before the corporation, particularly in areas of healthcare and retirement benefits. It provides relevant news and information to retirees through its web site and in the Encore and Tidbits publications, as well as periodic email communications. And, it maintains and makes available a directory of retirees' email addresses.
Hill Country Chapter offers its members opportunities for social occasions in an inviting atmosphere, combined with good food, topical speakers, and occasionally, entertainment. By utilizing electronic mail, the chapter frequently communicates with its members to keep them apprised of Chevron's benefits and other company related items of interest.     
Three or four luncheons are scheduled each year throughout the Chapter's geographic area.
Hill Country Chapter provides a membership directory including addresses, phone numbers, and email. Its web site includes a wealth of information about the chapter. Annual dues are $10.00 for retiree or surviving spouse, or $15.00 for retiree including spouse.
Hill Country Chapter's Officers and Directors are elected by the membership for two year terms. They are responsible for event planning, compiling the membership directory, and communicating with the membership. The Chapter is always seeking ways to serve its membership and to attract new members.